Ranga Alur Pantua....Gulab Jamun With Sweet Potato...!!!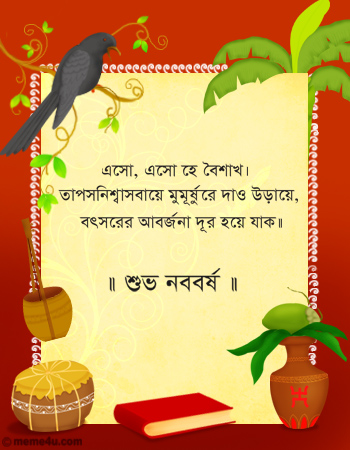 Poila Boishakh,
the first day of the bengali new year(usually falls in mid-April every year) is a very auspicious day .It's a very special day for all the Bengalis all over the world. In our childhood hearing Rabindrasangeet,played by Kakumoni(my uncle) we used to wake up quite early in the morning on that day. Maa and thamma( my granny) used to be very busy in the preparations of the Satyanarayan Puja. After bath, wearing new clothes I and my brother touched the feet of all the elder members of our family. All the neighbours and many relatives came to our house for the puja and they wished each other good wishes and exchanged sweets and pleasantries among each other.
Maa specially made Narkol Naru ( Coconut Laddu)and Payesh ( Rice and milk Pudding) and Thamma made the amazing Ranga Alur Pantua( Gulab Jamun with Sweet Potato) on that Day. It's true that those were the Golden days of my life but now, after my marriage, I celebrate my Poila Boishakh very gorgeously, because it's my Husband's birthday too. So, after my marriage Poila Boishakh means a double celebration at my home.
After the puja and other rituals every year on this day ,I cook something special for him. This year I was remembering thamma( she is no more) very badly. So, I called Maa and while we were talking about her over phone Maa suggested me to prepare "Ranga Alur Pantua" like her. She described me thoroughly the process. I thought by making this sweet I not only can give a sweet surprise to my hubby but also it would be a tribute to my granny on this auspicious day.
Here is the recipe of Rangla Alur Mishti...
Ingredients:
Sweet Potatoes - 250 gms

Refined flour (maida) - 2-3 tbsp.

Semolina(suji):1 tsp

Water:11/2 Cup

Sugar - 1 cup

Green cardamoms - 2-3

Oil/ghee: Enough for frying

Mawa: 3-4 tbsp.(I used home made mawa, To make mawa, take 2-3 tbsp. of milk powder and make a soft dough with 2-3 tbsp. of milk, and on full power, heat it in the microwave oven for 30 sec to 1 min. But don't make it too tight.)
Process:
At first wash and peel the potatoes very well. Then cut them in small cubes and with enough water boil them in gas oven or just take a microwave safe bowl with water and add the potato cubes into the bowl and then on full power heat it for 8-10 minutes. Most of the time to save time and avoid fuss I use microwave to boil anything literally quickly.

Soak the semolina in 1 tbsp. of water and when it becomes very soft, add it to the boiled potato and smash.

Add the flour and make a smooth, lump free beautiful ,soft yet firm dough. You may need1/2-1 tbsp. more flour .

Now divide the dough into few small balls.

Then press each of the ball little and make a space and then add little khoya and a cardamom seed inside it and then close it and tightly roll between your palm to smooth the surface.

Repeat the process for all the dough, keep them aside.

Make the sugar syrup with the exact amount of sugar and water and boil the them until the sugar is completely dissolve into the water. Don't make a thick syrup. The sugar syrup will be thin. Keep the syrup little warm.

Now put a deep bottomed vessel into the oven, add ghee or oil and heat it.

Then add the previously made balls into the vessel and fry them in medium flame until they turn into nice red/dark brown in color.

With a perforated ladle very carefully take them out from the kadhai one by one and directly dunk them into the warm sugar syrup.

Let them to get soaked into the syrup for 20-25 mins.

Take them out from the syrup and serve. The pantua made from the sweet potatoes are just soft like cotton and yummilicious.
Enjoy Your Food...!!